Past Event Winners

Nov. 2013 | Sept. 2013 I Apr. 2013 I Feb. 2013 I Dec. 2012 I Oct. 2012 I Aug. 2012 I May 2012 I Mar. 2012 I Jan. 2012 I Nov. 2011 I Sept. 2011
We had a SOLD OUT event!! It was great to pack the room and be able to help our community!
Karen from the Youth Empowerment Summit gave told us about how the event went and how with SOUP's fund they were able to provide 2 meals for the participants! Over 75 middle/high school aged participants came out for their event to learn about different jobs and community partners in Madison as well as learn about life skills such as applying for jobs and what different colleges have to offer perspective students.
We had 3 great projects present at the event (read about them here). Each will benefit a different part of the community and we are hopeful that they all continue to do what they are doing.
Madison Sewing Studio was the first place winner and awarded $422 towards their new venture! We are excited to see them again at the January 19th, 2014 event and hear how the space has evolved and where they're at.
We were also able to award $125 to Food Justice: Women of the Food Movement Summit. While they're not required to come back and give us an update we hope they'll continue to share their project's progress and a recap of the event after it is over.Back to the Top
It was a low attendance SOUP event, but those who attended heard some great presentations! We heard an update from April's winner Garden's for Empowerment on how their summer went, they were able to buy gardening tools and other misc. supplies. We had two presenters one from the Northside Youth Empowerment Summit event and the other was from EnAct.
Both groups are doing great things for our community, Heather was asked to go speak at the Youth Empowerment Summit on Oct. 24th and had a great time talking with young adults about being an entrepreneur and how what we learn at school ties into our everyday lives.
We were able to award $488 to the project with the most votes, Northside Youth Empowerment Summit and $150 to EnAct thanks to our generous silent donor! Back to the Top
55 people attended the April SOUP event. February's Winner, Joe from Madison Sweet Potato Project gave us an update how the funds they received were used towards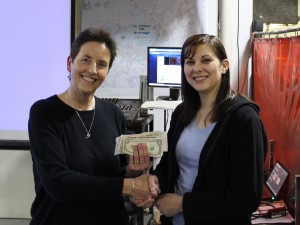 slips/seedlings for this year's crop.
Only 1 of the presenters showed for event, which made the voting really easy 🙂
Terri from Gardens for Empowerment was awarded $592 towards helping create terrace gardens in Madison neighborhoods.
We look forward to hearing an update from Terri at the September 2013 event.
Back to the Top
53 people attended the February SOUP event. A reporter for the Wisconsin State Journal also came to write an article about Madison SOUP.
December's winner, Meg R., gave us an update about how the funds she received were used towards 20 notebooks for a Creative Writing Class and a New Year's Day Reception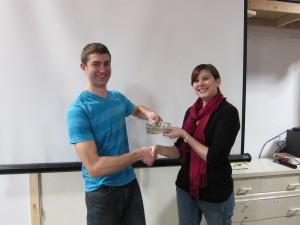 that were held at the Madison Day Warming Shelter.
We had 2 great projects presented! Kristin H. talked about Art in All the Wrong Places and Joe discussed the Madison Sweet Potato Project.
The Madison Sweet Potato Project was awarded $392 to buy 3267 sweet potato seeds that will be grown to slips, distributed to community members, and half of all sweet potatoes grown will go to local food pantries.
Back to the Top
44 people attended the December event. Many of the people who attended where new to Madison SOUP and were excited to learn more about the Sunday Soup Network and the event in general.
October's winner, Tami Miller, was unable to attend the event due to being ill, but she sent us a PowerPoint Presentation to show what they had done with the funds and an update on Feeding the State Street Family. One of the SOUP attendees, Jesse, has been helping Tami's group and he also said a few words as to other activities the group has been doing to help the Madison homeless community.
We had 3 great presentations during our meal which were very diverse from each other and are helping lots of people in our community. The project that received the most votes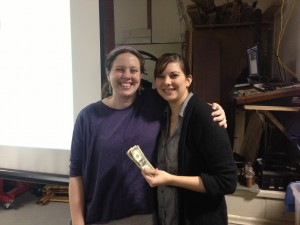 and was awarded $252 was a Creative Writing Group at the Madison Day Warming Shelter located on East Washington Ave. They will use the funds to buy materials for the group, and help provide necessities for their Celebration Reception on January 1st at 11am. All community members are welcome to attend their Celebration Reception.
Quiet Santa, and event for Autistic/Special Needs children to meet Santa in a quiet setting, and Re-Jeweled, a program through Mentoring Positivies which makes jewelry out of re-purposed items, are also wonderful programs and we invite them to submit their projects again to possibly present at the February 3rd, 2013 event.
Back to the Top
44 people attended the October Event, which was held at John & Chele's *amazing* home. The soup pots were empty by the end of the evening and everyone seemed to have a very enjoyable time meeting new people and finding out more about projects going on in our community. Peter, August's winner, gave us an update on his algae experiment and decided to return the funds he was awarded because his project has started to go in a different direction than originally proposed and he didn't feel comfortable keeping the funds. We will save that money to be used at future events to offset food costs, or to go towards projects if the event has low attendance.
Due to one of the projects pulling out last minute, Tami Miller's project "Feeding the State Street Family" was awarded $252 that will be used towards purchasing and distributing winter and personal necessities to the Madison homeless communities. We wish Tami much success and appreciate all the hard work and dedication she has put into this project towards helping others in our community! If you would like more information or would like to volunteer to help please visit their Facebook page "Feeding the State Street Family".
Back to the Top
A little over 30 people came out to enjoy our meal and listen to 3 community projects. We also received a video update from May's winner Equality in Music Education for Disabled Groups. They informed us about their progress of finding out more variables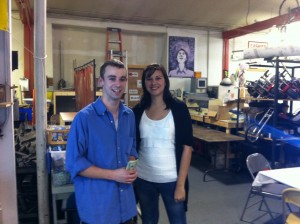 towards creating instruments and music for anyone to be able to play as well as how they spent their funds received from SOUP.
After all the votes were counted, "The Great Algae Experiment" received the most votes and was awarded $183 towards their endeavor. We look forward to hearing an update on their project in October.  The other projects that were presented were CREATE Weekends and Re-Jeweled, part of the Mentoring Positives' Inc.
Back to the Top
I want to send out a BIG Thank You to everyone who came out and supported our community projects last night! We had an attendance of 43 people and awarded $220 to Equality in Music Education for Disabled Groups. We're looking forward to hearing an update at the July event!
Information about the winning group and other groups who presented can be found on the May 6th Event Information post. Our March winner, Megan, also gave us an update as to how their beehives are going and what the kids can look forward to working with this summer. We wish them the best and hope to hear more updates in the future.
Back to the Top
We sold out again for the March event. 4 awesome projects presented and the winner was Megan Cain of Troy Community Gardens. Megan won $440 towards beekeeping materials to be used by middle school and high school aged participants

during Troy Garden's Summer Programs.
Congratulations to Megan and Thank You to all of our other presenters, volunteers, and attendees.
Our firs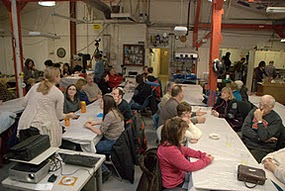 t event of 2012 was a great way to start off a new year. We had sold out of tickets for the first time and 3 projects pitched.
Projects (more information about projects can be found in the blog post on the home page):
1. Procession of the Species by Megan Monday and Brijetta Hall Waller.
2. House of Brews by Page Buchanan
3. RestART Program by Becky Redelings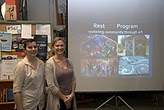 The project that received the most votes was RestART by Becky Redelings. Becky won $375 towards her project and we look forward to hearing an update at the March 18th event.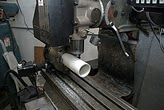 Update on the November Winner Scott Hasse and his 4th axis for a CNC Mill.  Tormach donated some of the necessary materials and along with the SOUP micro-grant Scott has completed the project and the mill is ready to go!
Back to the Top
Our 2nd event started off without knowing if anyone was going to pitch! Out of our 25 attendees, 3 wonderful participants came forward and pitched some great ideas. The ideas are listed below:
1. Domestic Correspondence-Getting back to old-fashioned letter writing and the art of penmanship.
2. Unwanted Item Sharing-A more organized format than Freecycle and Craigslist to share your unwanted belongings among neighbors and the community.
3. Apollo67-A team will launch a hydrogen filled balloon into space with a cell phone attached to take pictures and relay information back to a central location. Created with the intention of being a low-cost project for schools and community members to be able to create and launch on their own.
4. Project Cake Sheet-Installing a 4th axis on a CNC Mill at Sector67 to be able to perform 3D printing.
The Project that received the most votes was Project Sheet Cake! Congratulations to Scott Hasse who received $180 towards completing the project. We look forward to the January 2012 event to find out how much progress has been made.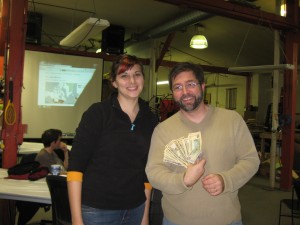 Update on September winners 7cees. Michael, Adam, and Alex are on their voyage and will not be seen around Madison, WI until November of 2012. They are heading westward on their way to Portland and Seattle. We wish them the very best and will continue to watch from a distance as to where their journey will take them.
Our inaugural event was a success! We had 2 projects present and 15 attendees showed up to see what Madison Soup is all about.
Nick presented his project called "Nick's Proto-Freedom Box" which enables users to "facilitate free communication among people, safely and securely any time, anywhere, through portable, personal, plug-servers".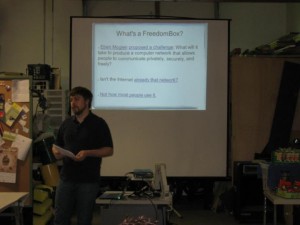 7 cees is a transformed school bus with two VW buses stacked on top "setting sail" the beginning of November 2011 and traveling the country for one year promoting creativity for all people. Follow their progress through their website blog and check out their Kickstarter project to help further fund the project!
Back to the Top
Save
Save